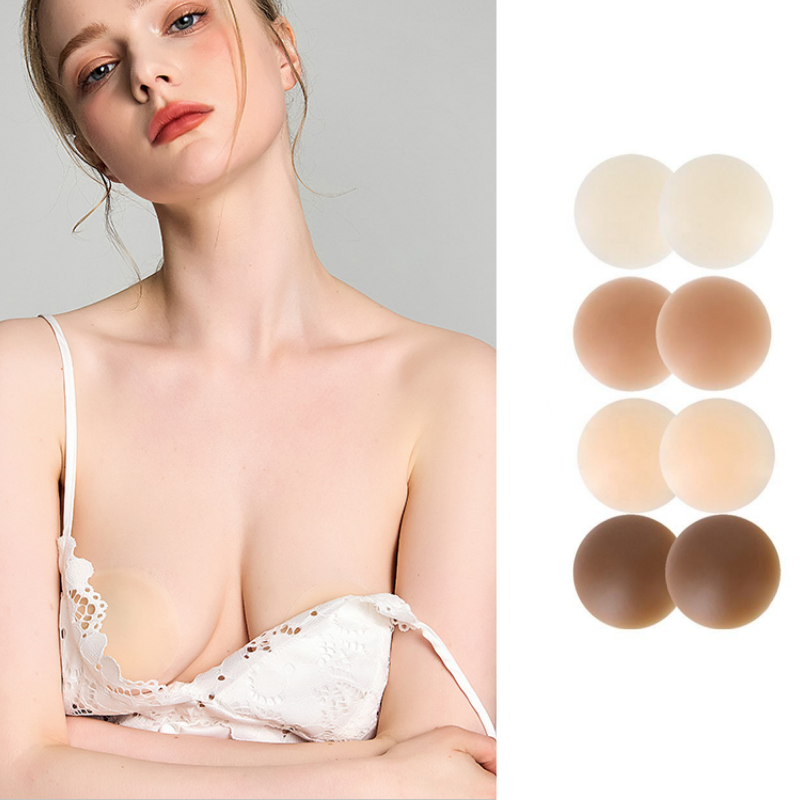 What's RUINENG silicone nipple cover?
Made of high-grade silicone, the color and feel are close to human skin. When in use, it is directly glued to the chest, which is natural and comfortable, and it is integrated with the chest. It can be used repeatedly after washing, and can be matched with elegant evening dresses, casual suspenders, open backs, open arms and see-through dresses. The products are petal-shaped, heart-shaped, and lip-shaped. Many women are troubled by not having a bra that matches the dress at a banquet. Without a bra, the curve of the chest is not perfect, and there is a risk of exposure; wearing a bra, the straps of the bra will affect the beauty of the dress, which is extremely embarrassing. Mini breast stickers to solve your embarrassment! Its compact design can just cover the nipples and areola, and the self-adhesive design is not easy to fall off, no matter how active you are. Without the restraint of shoulder straps, you can freely wear beautiful backless dresses, bare shoulder dresses, and see-through dresses, so that your fragrant shoulders and jade back can be exposed, showing your charm. At the same time, the mini breast stickers can also adjust your breast shape, making your breasts more round and sexy, adding points to your charming dress, and highlighting your sexiness.
Product details
| | |
| --- | --- |
| Product Name | Matt round silicone nipple cover |
| Place of Origin | Zhejiang,China |
| Brand Name | RUINENG |
|  Feature | Quickly dry, Seamless, Breathable, Reusable, Waterproof, biological glue |
| Material | 100% silicone |
| Colors | light skin, dark skin, champagne, light coffee, coffee |
| Keyword | Adhesive invisible bra |
| MOQ | 3pcs |
| Advantage | Skin friendly, hypo-allergenic, reusable, waterproof, seamless |
| Free samples | Support |
| Bra Style | Strapless, Backless |
| Delivery time | 7-10days |
| Service | Accept OEM Service |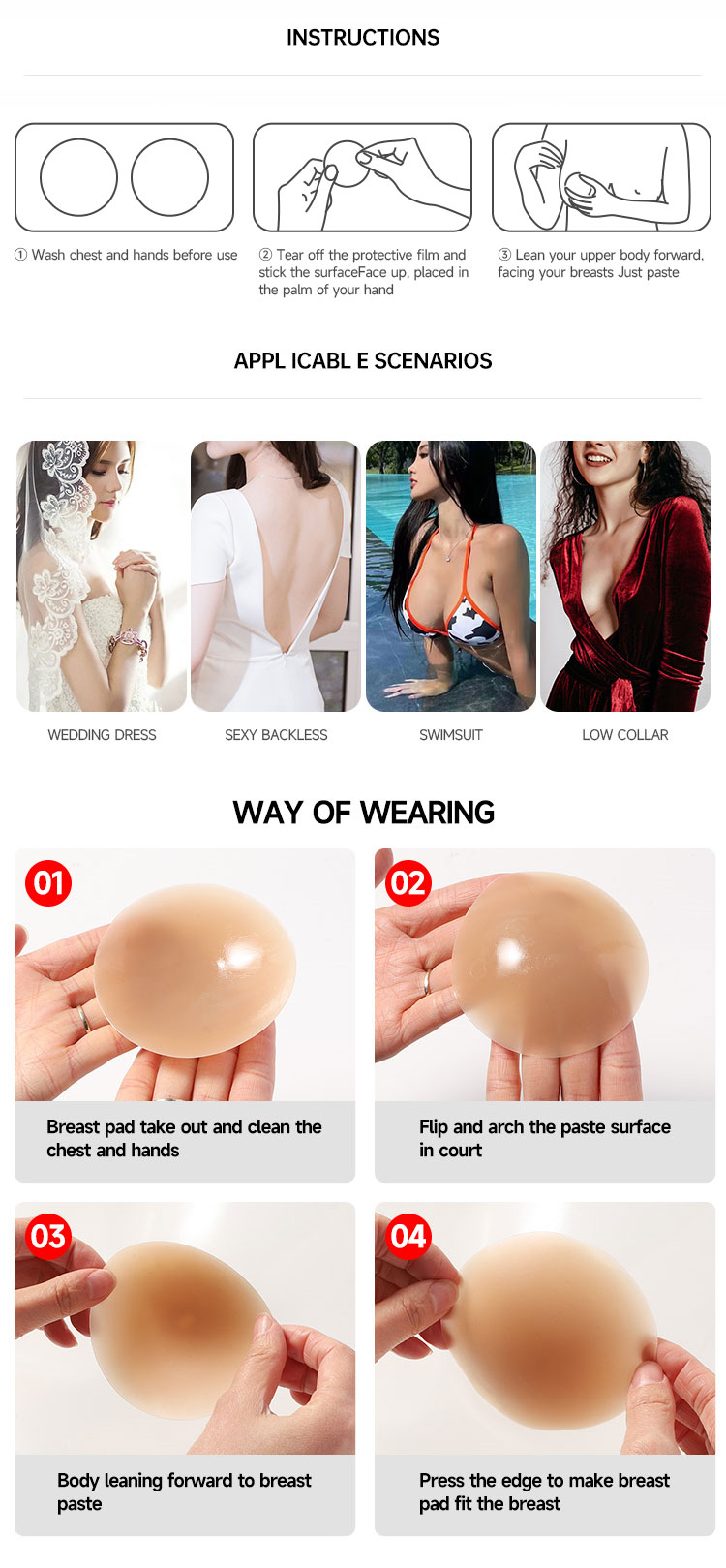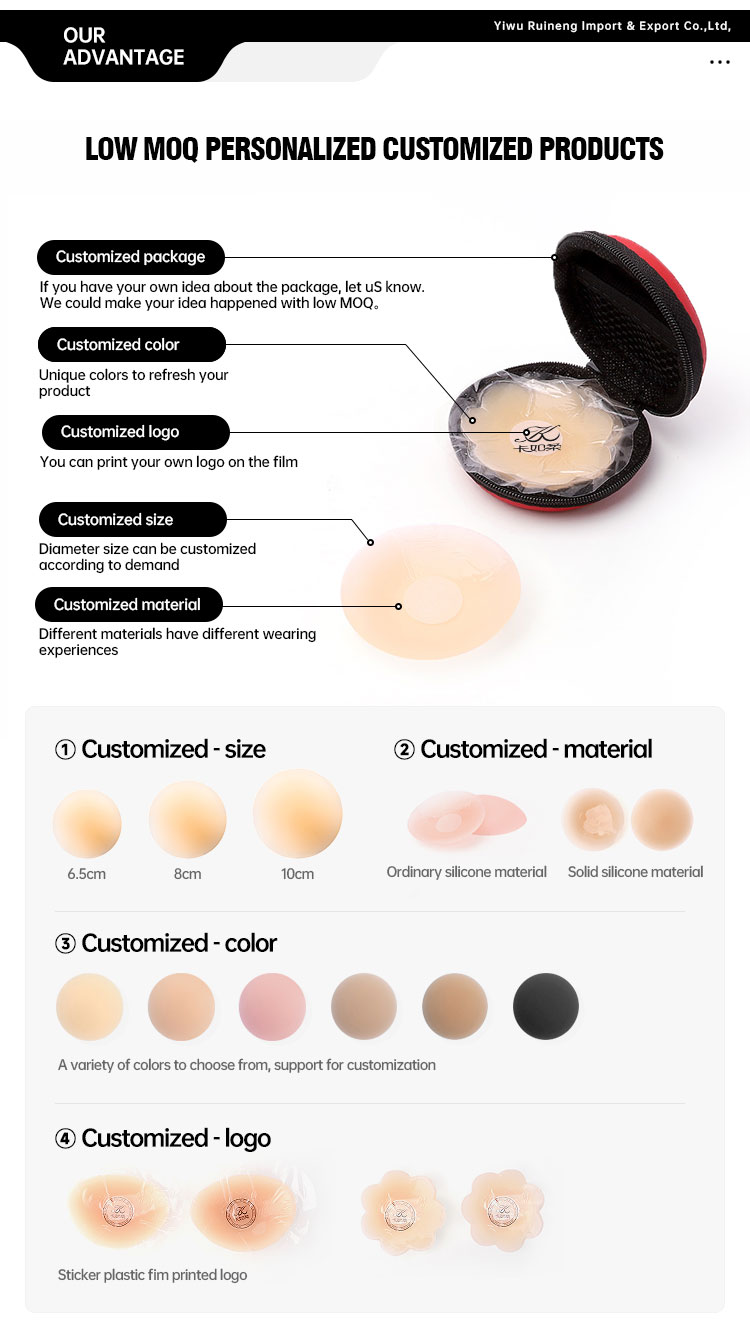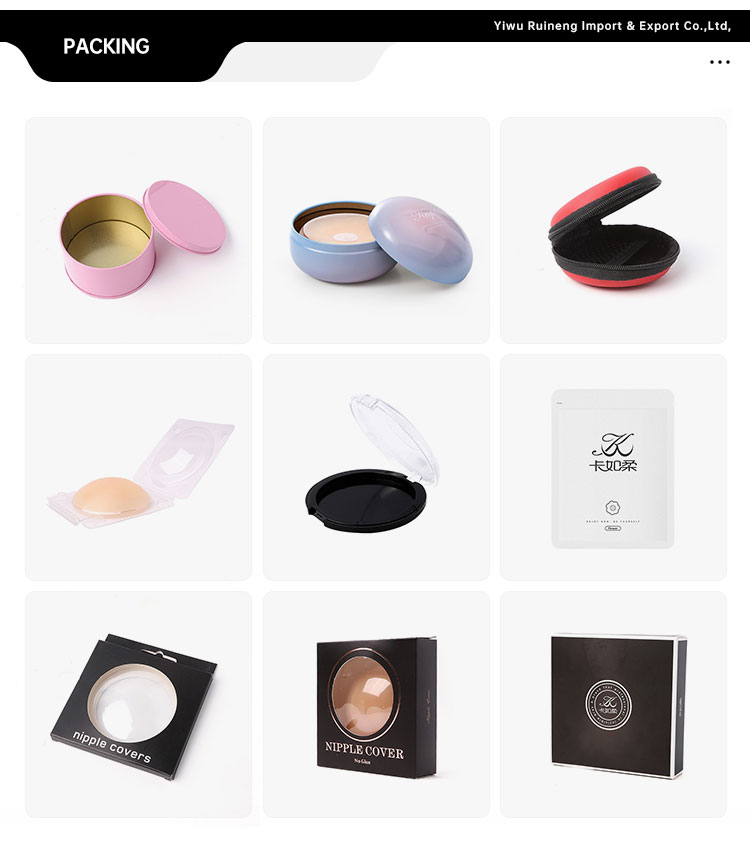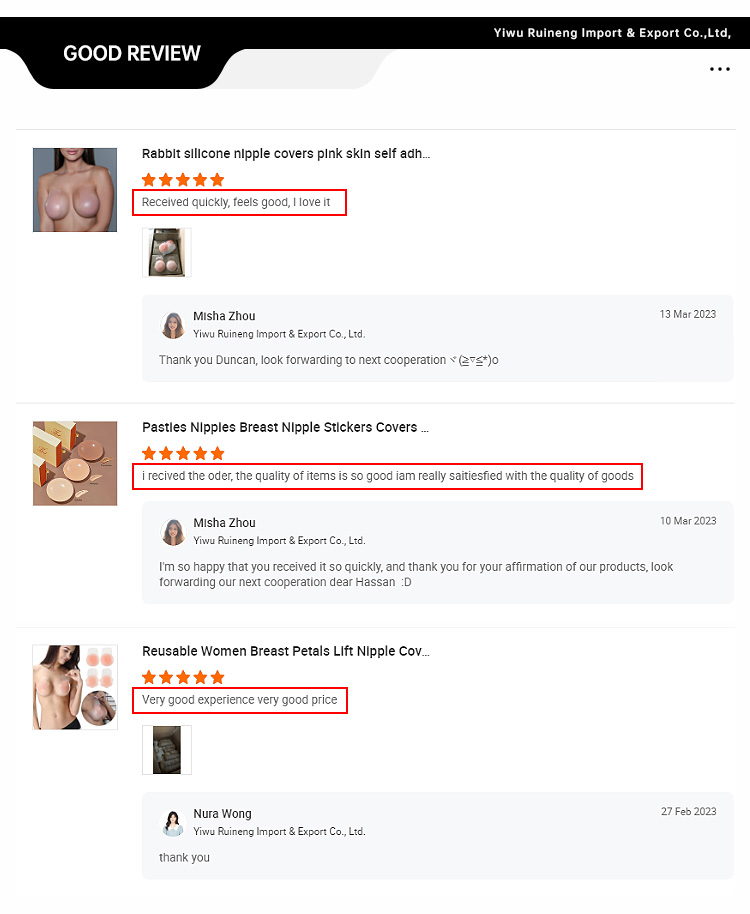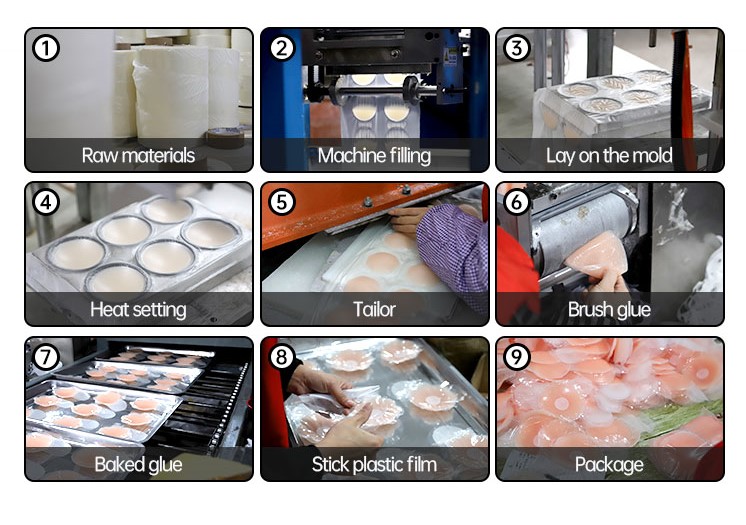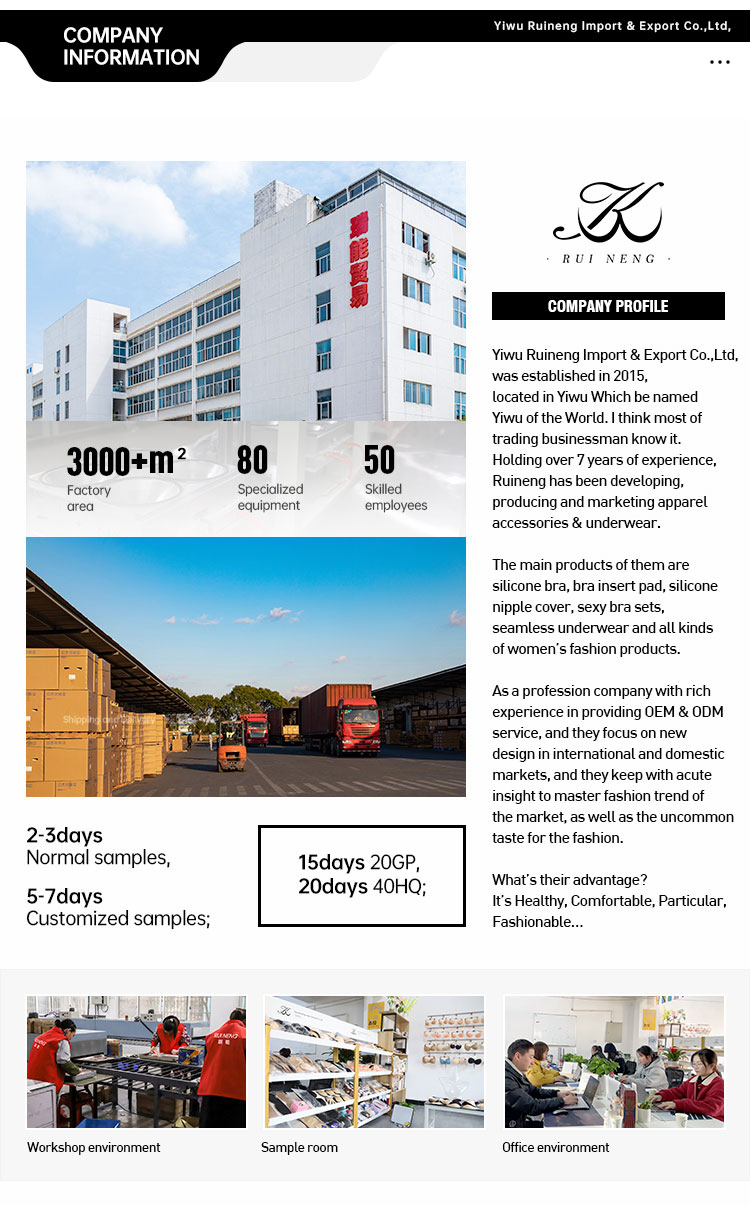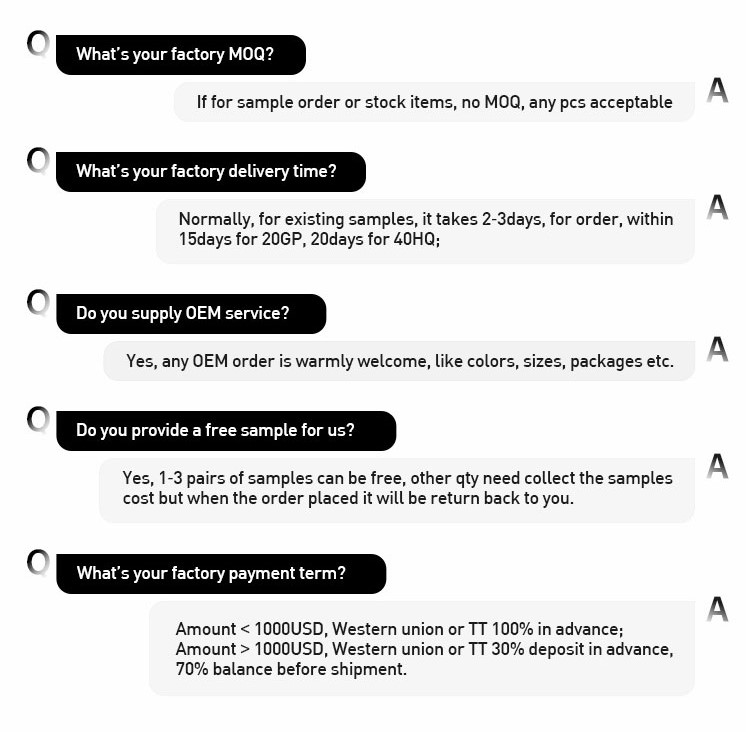 Precautions:
1. Do not use towels, clothes, etc. to touch the pasted part, because the wool will be tangled with the pasted part. But if something falls into the sticky part, pick it up carefully with your fingers. Try to avoid those clothes that are very easy to shed. 2. When cleaning, do not use nails, brushes or other things other than the palm to clean, otherwise it will cause damage. 3. It is forbidden to use alcohol, bleach or other chemicals to wash, you only need soap and warm water. 4. Do not try to remove the mucous membrane part, you will damage the product. 5. Avoid contact with sharp objects. If you accidentally puncture it, stick it with a small piece of strong sticky air-permeable tape to prevent it from continuing to crack. 6. To clean, just use soap and warm water. After natural drying, the stickiness will return. The thoughtful design without shoulder straps and back buckles will leave no trace no matter what kind of outfit you wear. Therefore, as long as you pay attention to the above points, the problems you are worried about will be easily solved! 7. Because breast stickers are stuck to the body by self-adhesive, they are not always as comfortable as cotton underwear, so they should not be used as a common choice. 8. Nipple stickers are fashionable and avant-garde women's products. They can replace the covering function of underwear and brassiere when pasted on the breasts. They have their own unique features, but they also have certain health risks. Experts remind everyone to choose according to the sensitivity of their skin. If you have sensitive skin, it is best not to use nipple patches.