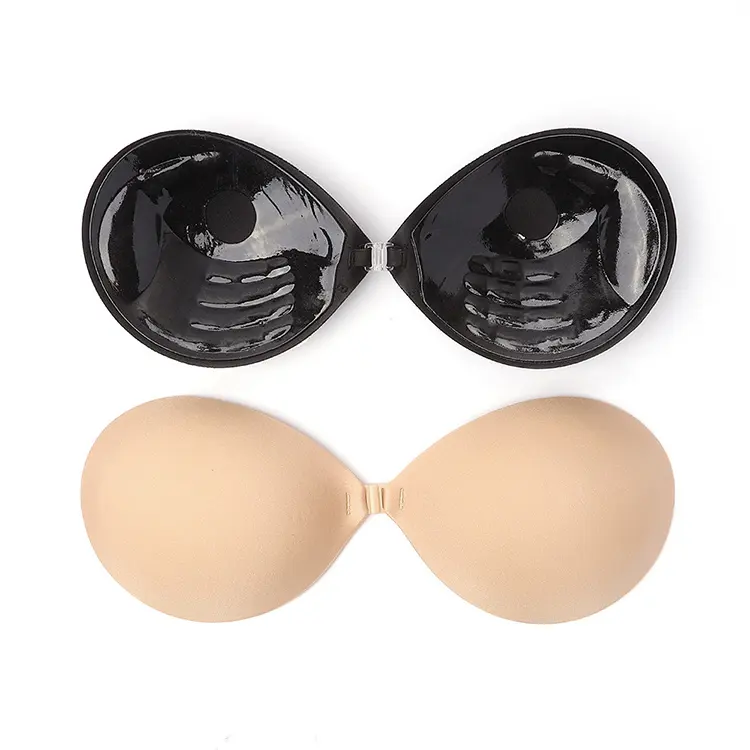 What's the adhesive fabric bra ?
So, what exactly is a adhesive bra? This is a strapless, backless, underwire bra made from soft fabric with an adhesive backing. This backing sticks to the skin, holding the bra securely in place. The adhesive material used is skin-friendly and hypoallergenic, ensuring that women with sensitive skin can wear it safely. Women choose to wear viscose bras for a number of reasons. First, they provide ultimate freedom and flexibility. Ladies can pair it with any outfit, from strapless dresses to camisole tops, without having to worry about visible bra straps or buckles. This makes them perfect for special occasions or stylish outfits that require a seamless look. Plus, the viscose bra provides excellent support and lift. The adhesive backing creates a gentle lifting effect, enhancing the natural shape and contour of the breast. This is essential for women who want an energized, enhanced look without the discomfort of an underwire. Plus, viscose bras are super comfortable to wear. They are usually made of soft, breathable fabrics that are soft to the touch. The absence of straps and wires eliminates the discomfort of traditional bras, allowing women to move freely and comfortably throughout the day. It's worth noting that viscose bras are available in a variety of designs to accommodate different breast sizes and shapes. Some bras have a push-up effect, while others are designed for a natural, seamless look. Additionally, they are available in different colors and styles, enabling women to choose a bra that suits their personal style and preferences. By now, you're probably wondering how to get a bonded fabric bra properly fitted. The manufacturer's instructions must be followed to ensure safe installation and long-term use. The first step is to clean and dry the chest area before putting on your bra. This ensures that the adhesive will bond properly without interference from dirt or oil. Next, remove the backing of the bra and place it over the breasts, adjusting to desired lift and shape. Finally, press against the skin to activate the adhesive and ensure a secure attachment. Caring for a viscose bra is relatively simple. Can be hand washed with mild soap and air dried. It is important not to use any fabric softeners or harsh chemicals as they will affect the bonding properties. Proper care and maintenance can extend the life of your bra, ensuring multiple uses. All in all, the viscose bra was a game-changing invention in the underwear world. It gives women the freedom, support and comfort they want while eliminating the need for straps or hooks. Investing in a quality viscose bra can revolutionize a woman's wardrobe and make her feel confident, comfortable and stylish in any outfit.
Product details
| | |
| --- | --- |
| Product Name | Invisible fabric adhesive strapless bra |
| Place of Origin | Zhejiang,China |
| Brand Name | RUINENG |
|  Feature | Quickly dry, Seamless, Breathable, Push-up, Reusable |
| Material | Sponge, Medical silicone glue |
| Colors | Skin, Black |
| Keyword | Adhesive invisible bra |
| MOQ | 5pcs |
| Advantage | Skin friendly, hypo-allergenic, reusable,seamless |
| Free samples | Support |
| Bra Style | Strapless, Backless |
| Delivery time | 7-10days |
| Service | Accept OEM Service |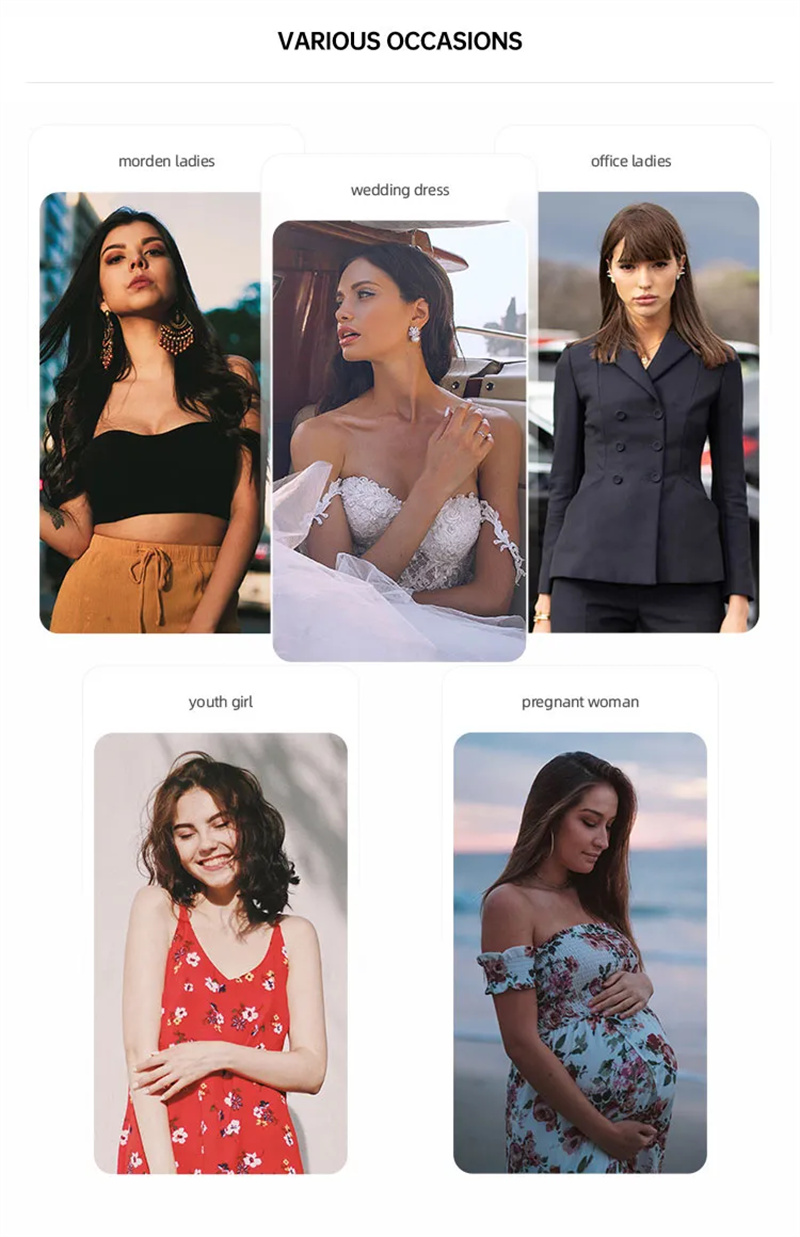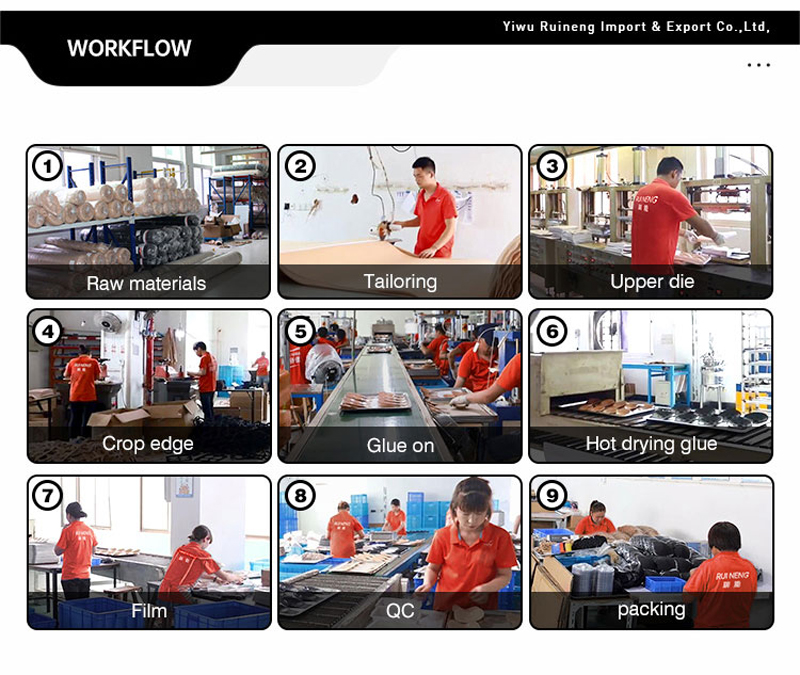 How do you use invisible adhesive bras?
1. Make sure your skin is clean, dry, and free of creams or moisturizers.[1] If you've just showered, you should be good to go as long as you haven't applied any products to your skin. If not, go ahead and use a washcloth with warm water and soap to quickly clean your chest and prepare it for the sticky bra's adhesive. (Make sure to dry off completely before applying the bra—the adhesive won't work if your skin is wet.) 2. Separate the cups for accurate placing if the bra has clasps in the front. Many sticky bras have a clasp or ties in the front, though there are also options that are made of one continuous piece of material. If yours has a clasp in the middle, go ahead and undo it so that you have two separate cups to work with—this way, you can take your time getting each one into exactly the right position. a). Always check the instructions before putting on your backless bra. Each brand may have a slightly different method for making it stick the best. b). Work in front of a mirror so you can easily see what you're doing. If you're new to wearing a backless bra, it can feel a little weird at first when you try to put the cups on. 3. Remove the plastic backing to expose the adhesive. Locate the edge of the clear plastic film that is protecting the bra's adhesive from getting stuck on other things. Peel away the adhesive, but don't throw those strips away! Put them to the side to reapply later and keep your sticky bra in good condition. a). If you need to set the cups down, make sure to put them adhesive-side up. 4. Flip the cups inside out to apply the bra without air bubbles forming. Simply pop the cups so that the adhesive is sticking out and the front side is concave. When you go to apply the cups, it'll be much easier to get it to lay flat and adhere completely to your skin. a). If you have a two-piece bra, focus on doing on cup at a time. b). Before you move on to attaching the bra, consider placing tissue paper or pasties over your nipples if they tend to be sensitive. When you remove the bra, the sticky adhesive could be painful as it pulls on your nipples. Tissue paper or pasties will keep the adhesive from attaching and alleviate some of that sensitivity. 5. Place the bra over your breast and smooth it upward and outward. Place the cup so that the middle is centered over your nipple. Attach the cup to your breast at the bottom-most point, and then slowly smooth the rest of the cup upwards over your breast, using your hand to push the material flat against your skin. Avoid putting the bottom of the bra under your breast—you may be tempted to replicate the look and feel of a traditional bra, but most sticky bras need to be set up differently to provide adequate protection. a). If your bra has sticky side panels that extend underneath your arms, get the cup into place first and then smooth down the side panel so it's flush against your skin. b). If your bra has detached cups, keep in mind that the further away the cups are from one another, the greater cleavage you'll have once the clasps are connected. c). If you're having trouble with the placement, just take a deep breath, peel off the cup, and try again! It won't hurt anything to reapply the cup several times until you get it where you want it. 6. Connect the front clasp or ties if your bra has that function. Gently pull the clasps toward each other and secure them into place. Many brands have clasps that simply hook into each other to provide the most security. If there are ties or a corset-type situation, you'll need to pull the ties as tight as you want them and secure the ends with a knot. a). Some backless bras come with ties so you can make adjustments to the size of your cleavage. A looser tie means less cleavage, and a tighter tie means more cleavage.